These Strawberry Almond Chocolate Bars are so damn easy to make. Seven ingredients! Plus, they are freakin' delicious!
These Strawberry Almond Chocolate Bars are a huge winner, guys. The combination of flavors is truly amazing, if I do say so myself. Crunchy, gooey, salty, sweet, and rich. The salt on top really is (*chefs kiss*) perfection! It'll be hard to only eat one bar. Also, did I mention that there are only seven ingredients?
The sweetened condensed milk in the bars is really where the magic happens. It acts as a glue, holding everything together to make a cohesive and yummy treat.
So, any tips for the baking process?
For these Strawberry Chocolate Almond Bars, make sure your melted butter and graham crumbs are well-combined. I use my hands for best results.
Really do your best to scrape out every last drop from the can of sweetened condensed milk.
Make sure to mix the strawberry jam well after microwaving to combine the thicker and watery parts.
When adding in the strawberry jam, make sure to lightly swirl with a thin skewer. You don't want to cut through or mess up the graham crust.
You'll know when the bars are ready when the edges are golden and the filling in the center starts to bubble. Make sure to let the bars cool completely at room temperature, then place into the refrigerator for at least an hour before cutting.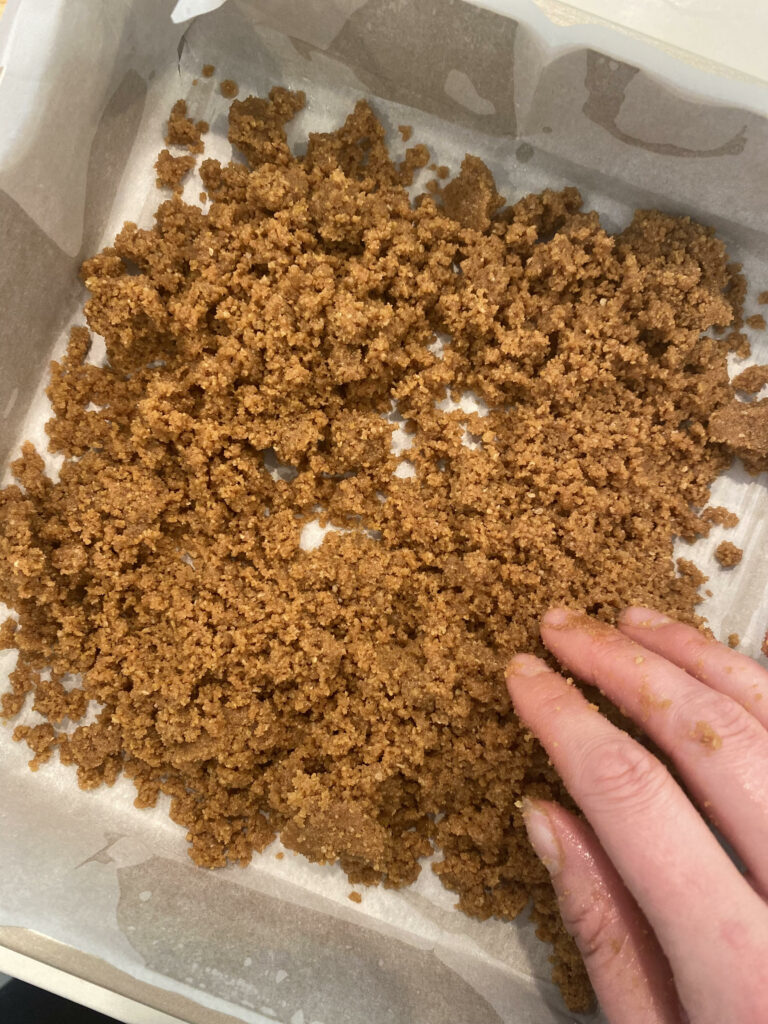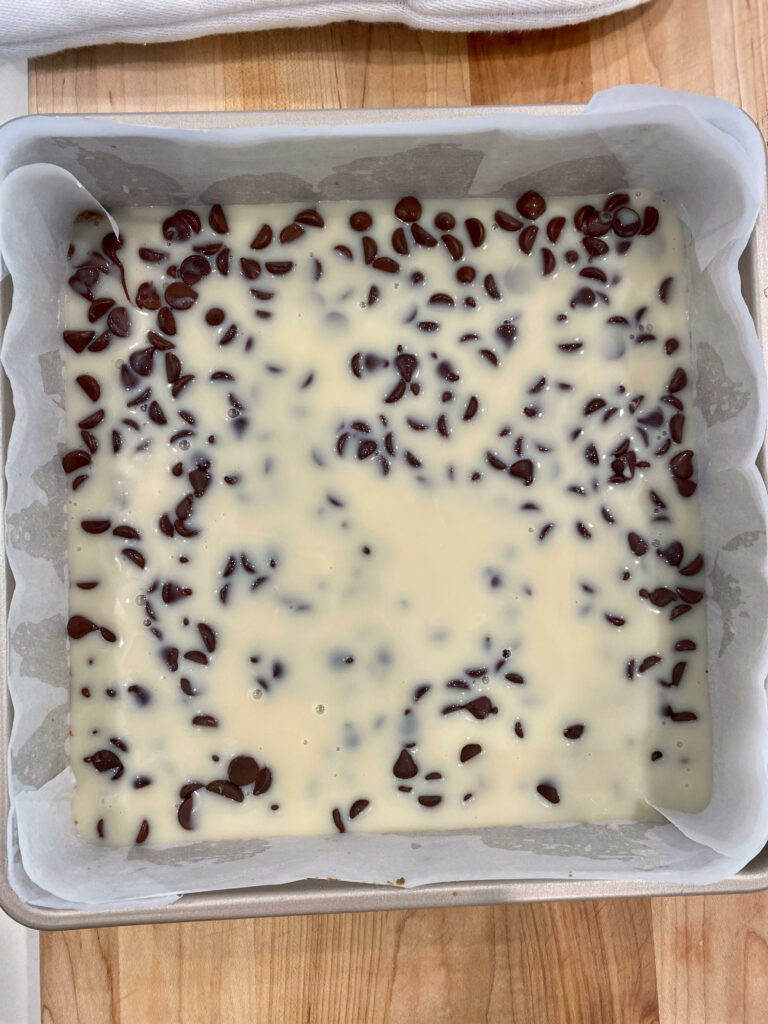 Ingredient Notes:
Gluten-Free Graham Cracker Crumbs – I actually buy whole graham crackers and pulse them in a food processor until they're nicely ground. However, if you can find graham cracker crumbs already in crumbs, feel free to use those here!
Strawberry Jam – Be sure to use jam instead of jelly, to get more of the real fruit taste. If you prefer another type of jam, feel free to use it instead of strawberry jam.
Fleur de Sel – Any flaky sea salt will work really well here! Use to taste. My husband likes more salt than I do, so he sprinkles even more on top of his.
Strawberry Almond Chocolate Bars
Equipment
9×9 Inch Baking Pan

Parchment Paper

Medium Bowl

Microwave Safe

Small Bowl

Microwave Safe

Thin Skewer

For swirling in the strawberry jam
Instructions
Position a rack in the middle of the oven and preheat to 350°F. Line a 9×9 inch baking pan with parchment paper.

Cut butter into cubes and place into a medium microwave-safe bowl. Microwave in 20 second intervals, until just melted.

Add the graham cracker crumbs into the bowl with the melted butter and mix until well-combined (I use my hands for best results). Press into the bottom of the pan, lining the bottom evenly. Bake on the middle rack for 12 minutes, until slightly hardened.

Place strawberry jam into a small microwave-safe bowl. Microwave for 30 seconds, until warmed through and slightly runny. Stir to combine.

Sprinkle the chocolate chips evenly over the baked graham cracker crumbs. Drizzle the condensed milk evenly over the chocolate chips, making sure to scrape out and use every bit from the can. Drizzle the strawberry jam over the condensed milk. Using a thin skewer, gently swirl in the strawberry jam, making sure not to move around the graham crumbs. Sprinkle the almonds evenly over the top.

Bake on the middle rack until the filling is bubbling and the edges are lightly browned, about 25 minutes. When finished baking, sprinkle fleur de sel, Maldon sea salt, or any flaky salt over the top. Let cool completely in the pan, then refrigerate for at least one hour before cutting.
Notes
Store bars in an airtight container in the refrigerator, or on a plate wrapped with plastic wrap for up to one week. Best if brought to room temperature before serving.