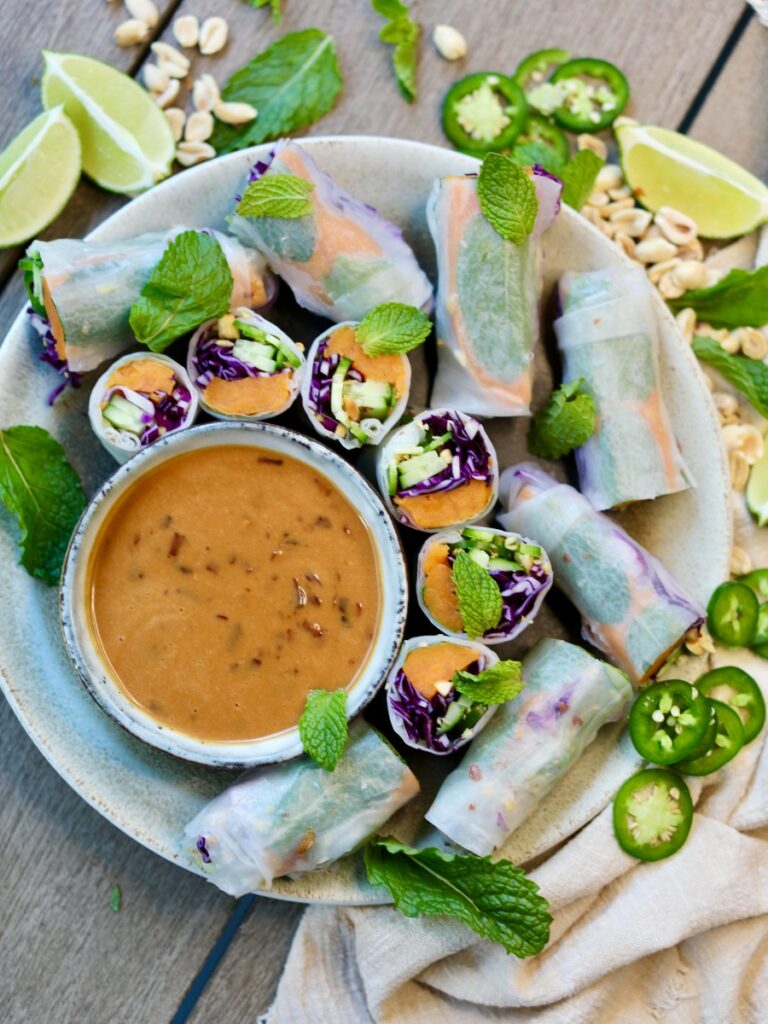 Who loves summer rolls as much as I do? These ones are made with sweet potatoes and are served with a peanut sauce that you'll want to drink.
These Sweet Potato Summer Rolls are the summer rolls of your dreams. Plus they're vegan, incredibly delicious, and healthy. Perfectly cooked, steamed sweet potatoes are rolled in rice paper with fresh mint leaves, shredded purple cabbage, cucumber, chopped peanuts, and jalapeños. Dip them into a slightly spicy, slightly sweet peanut sauce and you have the perfect bite!
It really is the perfect bite. You have the creamy sweet potatoes, with fresh crunchy cabbage and cucumber, spicy jalapeños, and crispy peanuts. The peanuts also provide a crunch, but it's a different crunch to the cabbage and cucumber. You'll understand when you take your first bite. Trust me.
Who doesn't love a peanut sauce? It's creamy, silky, spicy, sweet, zesty. Very well-balanced and goes perfectly with the Sweet Potato Summer Rolls. If you don't love peanut sauce, substitute a classic sweet chili sauce. You can find it here, but also at most grocery stores. I don't love brands that are too sweet. It needs to be a little spicy, too!
So what is rice paper anyway?
It's an ingredient in Vietnamese cuisine that's usually made from rice flour and tapioca flour. They come in large round sheets, like paper, but are stiff and break easily. So be careful when putting them in your grocery bag! You should be able to find them in any super market, usually in their Asian or ethnic food aisle.
You need to soak it or run it under water before using it for the summer rolls. It'll soften so that you can roll it. Alternatively, you can fry it without softening it in water first. I love doing this to create yummy chips for tartare.
Ingredient Notes:
Sweet Potato – I say large because it's ideal to get one long enough to go across the entire sheet of rice paper. However, If that's not possible, you can get two smaller sweets and use two pieces across the rice paper.
Peanut Butter – You can go creamy or crunchy here for the peanut sauce!
Ponzu – I love ponzu because it's a mixture of a few common Asian ingredients, like soy sauce, rice vinegar, and citrus, like yuzu or lime, as well as some other ingredients. I like using it here so that there are a few less ingredients you'll have to buy. if gluten-free, make sure to buy a gluten-free version. If you don't have ponzu and need to substitute something else quickly, do a 50/50 mixture of soy sauce and rice vinegar, or just use soy sauce if you don't have rice vinegar.
Agave – You can also use honey if you don't have agave.
Chili Garlic Crisp – I love this condiment on so many things. it's actually not super spicy, even though it's made with chili. I love Fly by Jing's version, found here and also at many grocery stores. They have their classic version, as well as an extra spicy one!
Purple Cabbage – Feel free to also use a pre-shredded cabbage mix if you're feeling a bit lazy, I just love the purple color in the rolls.
Sweet Potato Summer Rolls with Peanut Sauce
Who loves summer rolls as much as I do? These ones are made with sweet potatoes and are served with a peanut sauce that you'll want to drink.
Equipment
1 Pot or Pan with Steamer Basket

1 Medium Bowl

Whisk
Ingredients
1

large sweet potato

or 2 small ones, peeled, cut in half lengthwise, then each half cut into 4 slices lengthwise

Kosher salt

3

tablespoons

peanut butter

4

tablespoons

ponzu

2

teaspoons

sesame oil

1

tablespoon

agave

1

tablespoon

chili garlic crisp

½

lime

juiced

16

sheets rice paper

roughly one packet

24

fresh mint leaves

¼

purple cabbage

thinly shredded, to taste

2

Persian cucumbers

cut in half lengthwise, then each half cut into 4 slices lengthwise

1/3

cup

roasted peanuts

roughly chopped

2

jalapeños

thinly sliced into rounds, seeds removed if you don't like spicy
Instructions
Prepare a steamer basket in a pot or a pan with about half an inch of water underneath. Bring water to a simmer, then place sweet potato wedges in basket. Cover, reduce heat to low, and cook until tender but not mushy, 15-20 minutes. Remove from heat and sprinkle with Kosher salt.

In the meantime, make the peanut sauce. In a medium bowl, whisk together the peanut butter, ponzu, sesame oil, agave, chili garlic crisp, and lime juice until smooth. Taste and season with Kosher salt, if needed.

For the summer rolls, each summer roll will need 2 rice paper wrappers. Run them under room temperature water in the sink to hydrate them. Make sure to wet both sides well, about 10 seconds. Stick them together and place on a cutting board.

Take 3 fresh mint leaves per roll and place them horizontally on the lower third of the summer roll wrappers. Then take one sweet potato wedge per roll (if you had to buy two smaller potatoes instead of the one large, use two wedges per roll) and place it horizontally over the mint leaves. Take a decent amount of the purple cabbage and spread over the sweet potato. Take two sticks of cucumber per roll and place over the cabbage. Sprinkle some chopped peanuts over the cucumber and finish with jalapeno slices, about 4-5 per roll.

Fold in the two ends and pull the bottom part of the wrappers over the filling, squeezing it in, like rolling a burrito. Make sure to tighten each time you roll, pulling it towards you. Don't pull too hard, or it may rip (It might be trial and error)!

Cut each summer roll in half or slice into 1-inch rounds, for an hors d'oeuvre size. Serve with the peanut dipping sauce on the side.
Notes
Summer Rolls are best eaten the day they are prepared. If keeping overnight, store sprayed with a little avocado oil and water with parchment paper directly on top. Then store airtight in the refrigerator.
Peanut sauce can be kept in an airtight container in the refrigerator for up to 5 days. 
Sweet potatoes can be cooked ahead of time and stored in an airtight container in the refrigerator for up to 2 days.