Once you bite into one of these chicken empanadas, you'll be wondering where they've been all your life.
You can make mini chicken empanadas or larger ones – they're perfect for a dinner party, casual night at home, or quick lunch. Plus, they're Colombian style – so naturally gluten-free!
I learned to make this dish at the catering company that I worked at after I graduated from culinary school. There was the sweetest Colombian couple who made these delicious empanadas, Jimmy and Mary. They would take weekly orders and bring them in for everyone. Before then, I had never had an empanada before, since most are not gluten-free. However, Colombian empanadas are made with precooked cornmeal. Needless to say, I fell in love.
They shared how to make the gluten-free dough and I tried to become a master. Tried being the operative word, because for every single one I would make, Jimmy and Mary would each make 6! They've been making empanadas since they were 3 years old, so they've had a lot of practice at the technique.
Regardless, they're so fun to make and even more fun to eat. I hope you love my recipe!
What Should You Serve This With?
TEQUILA BABY! And not the horrible stuff you had in college, there are some excellent tequilas out there. I am always up for suggestions, what's your favorite?
But what about food? To be honest, these are a meal all in one – you can serve them and the salsa on their own as is. However, guacamole or any light salad would be excellent along with them, too!
Ingredient Notes: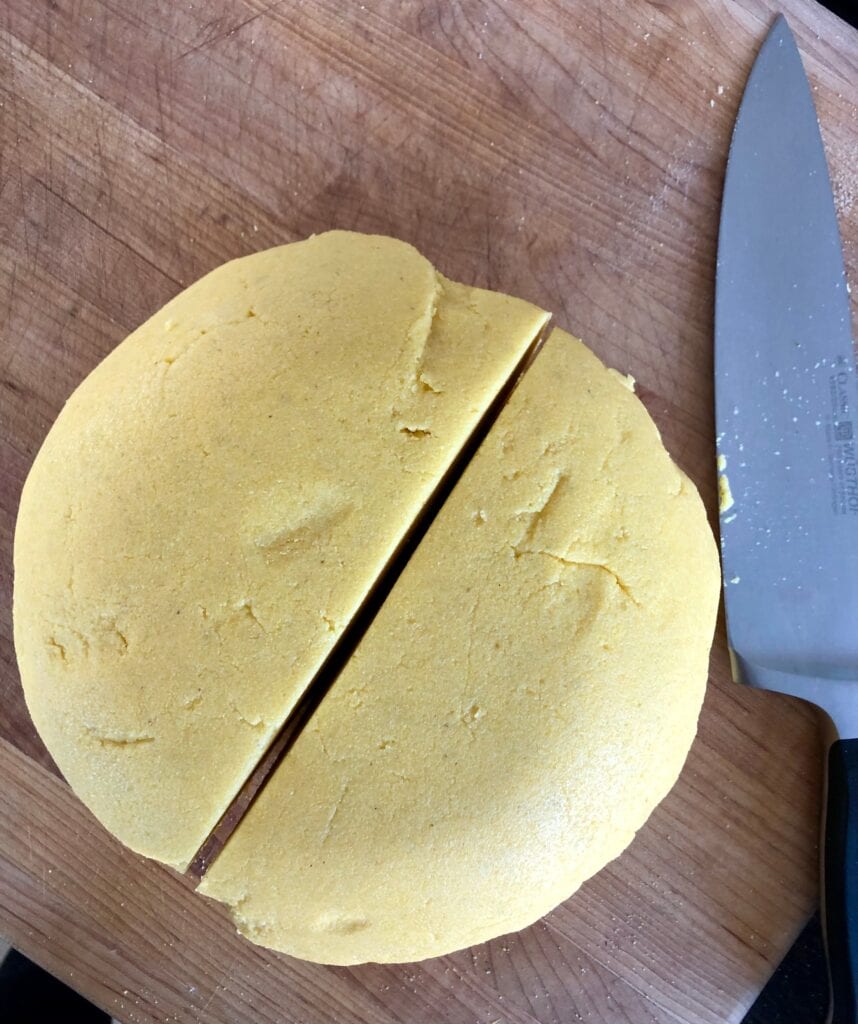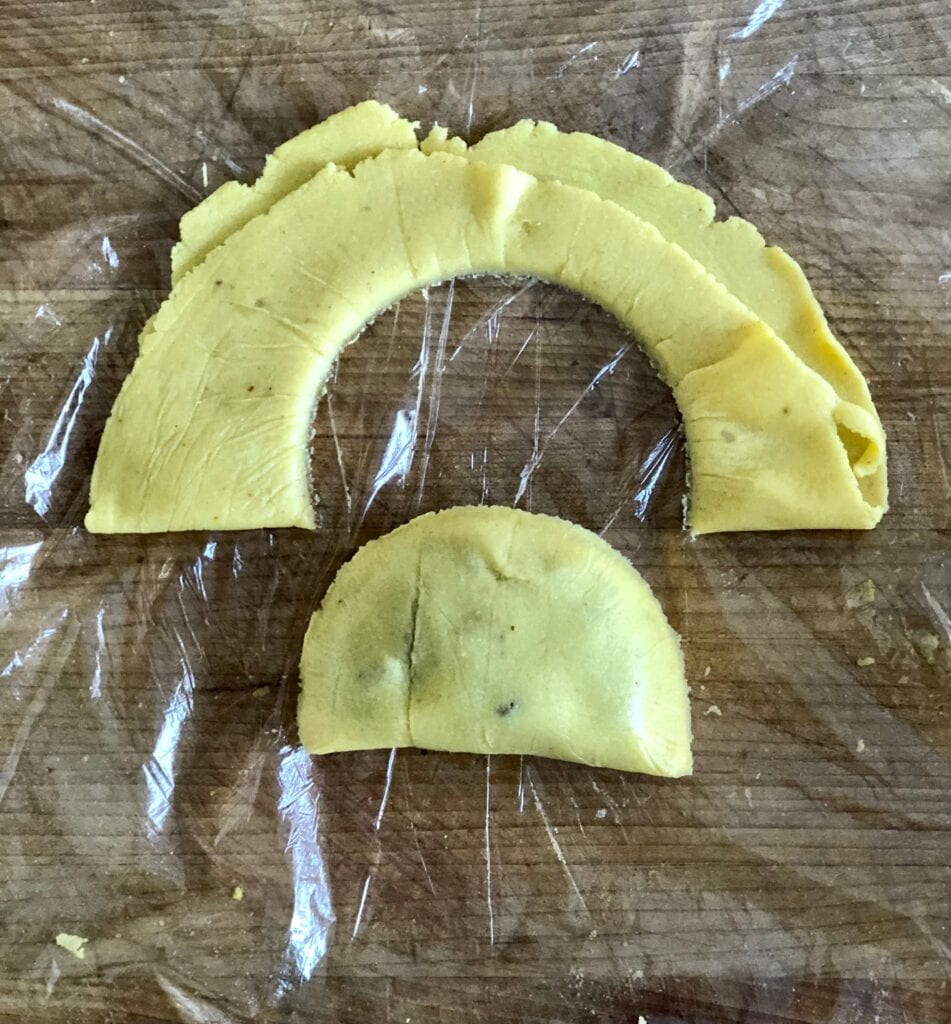 Colombian-Style Chicken Empanadas
Equipment
Peeler

Small Pot

Potato Masher

Large Skillet

Small, Medium and Large Mixing Bowls

Paper Towels

Plastic Wrap

Rolling Pin

Parchment Paper

Sheet Pan

Medium Skillet or Pot
Ingredients
Ingredients for the filling:
1 ½

russet potatoes

Kosher salt

2

tablespoons

avocado oil

½

yellow onion

diced small

1

jalapeno

cut in half vertically, seeded, and diced small

3

large garlic cloves

finely chopped

¼

teaspoon

dried oregano

¼

teaspoon

red pepper flakes

¾

teaspoon

ground cumin

¾

teaspoon

hot Hungarian paprika

1

pound

ground chicken

1

tablespoon

aji Amarillo paste

3

tablespoons

chicken stock
Ingredients for the dough:
2

cups

yellow masarepa

precooked cornmeal

1

teaspoon

kosher salt

2

teaspoons

avocado oil

2-2½

cups

hot (not boiling) water

Oil for frying

canola, corn, vegetable, soybean, etc., unless using an air fryer
Ingredients for the salsa:
2

roma tomatoes

finely diced

½

jalapeno

finely diced

2

scallions

finely chopped

½

cup

water

¼

cup

white vinegar

1

tablespoon

olive oil
Instructions
For the Filling:
Peel the potatoes and cut them into sixths. Place them into a medium pot and fill ¾ of the way with water. Season with a big pinch of Kosher salt and bring to a boil. Cook until tender and completely cooked through, about 15-20 minutes. Drain, mash until almost smooth, and set aside.

While the potatoes are boiling, heat the avocado oil in a large skillet over medium heat. Add the onion, jalapeno, and ¼ teaspoon of Kosher salt (double this amount of salt if doubling the recipe) and stir. Then cover tightly and set over low heat for 10 minutes, stirring twice in between.

Uncover and raise the heat to medium-high. Add the garlic, oregano, red pepper flakes, cumin, and paprika. Cook for another 1-2 minutes, until softened and fragrant, stirring occasionally.

Add the ground chicken and 1 ½ teaspoons Kosher salt (double this amount of salt if doubling the recipe), breaking it up into pieces. Cook, stirring occasionally, for 5 minutes, then add the aji Amarillo paste. Cook for another 3-4 minutes, until completely cooked through.

Take off heat and stir in the chicken stock and mashed potatoes. Taste and season with more Kosher salt, if needed. Set aside.
For the Dough:
Combine the masarepa and salt in a large bowl. Add the avocado oil and hot water and knead for 1-2 minutes until smooth. Start with 2 cups water then add more if it feels dry. Cover with a damp paper towel and let sit for 15 minutes. While making the empanadas, keep the dough covered with the damp paper towel so it doesn't dry out.
For the Salsa:
Combine all the salsa ingredients in a medium bowl and stir to combine. Season to taste with salt and pepper. Let sit for 10 minutes before serving.
Assembly:
Take a long piece of plastic wrap and lay the top half of it on the counter, allowing the bottom half of the wrap that's closest to you to fall off the counter.

Take about ½ cup of the empanada dough and roll it into a ball. Place it in the center of the plastic wrap portion on the counter. Press down slightly. Take the bottom of the wrap and fold it over the dough, as if you are folding the plastic wrap piece in half.

Using a rolling pin, evenly roll out the dough until 1/8" thick. Unfold the plastic wrap, leaving it hanging over the counter again. If making regular-sized empanadas, place 2 tablespoons of the filling onto the dough, about two inches from the top in the center. If making mini empanadas, place 2 teaspoons onto the dough.

Take the bottom part of the plastic wrap and use it to help fold the dough over the empanada filling, making sure there are no air bubbles or extra space. Take a small round bowl or cup and press half of it over the empanada dough, cutting it in a half-moon shape. Lift up the saran wrap and peel the extra dough away from the formed empanada (You can mix this with additional dough and use it again).

Place the formed empanadas on a parchment lined sheet pan and cover well with damp paper towels. If not covered well, they will dry out and crack. Once all the empanadas are formed, fry immediately.

Pour the frying oil into a medium-sized deep skillet or pot, so it's halfway full. Set over high heat. When the oil is hot, turn the heat down to medium and fry the empanadas, about 4 minutes each, until golden and crispy on both sides (If using an air fryer, omit this step and air fry instead). Remove from the oil and serve immediately while hot with the salsa.
Notes
Mini Empanadas: This recipe will make about 40 mini empanadas.
Empanada Filling Storage:

The filling for the empanadas can be kept in the refrigerator for 3 days, or kept in the freezer until ready to defrost and use.
Empanada Storage: After the empanadas have been fried, you can cool and freeze them. They are best reheated in an oven at 400°F until warmed through or in air fryer.