These Peanut Butter Cookies have most perfect ratio of peanut butter and chocolate chips. They may be the best PB cookies ever…
This is my first cookie recipe up on my website and you guys won't be disappointed. These Peanut Butter Cookies with Chocolate Chips and Pretzels are absolutely fantastic. The pretzels are actually optional. Some people like an extra crunch in their cookies, some do not. It's totally up to you!
I love these cookies because they are so perfectly balanced. Chocolate and peanut butter? Best combo ever! There's not too much peanut butter, so the cookies spread out nice and evenly. They also have an amazing, perfect, crispy on the outside, gooey on the inside texture. YUM!
And let's talk about the chocolate chips, which are actually large chocolate chunks. Because who doesn't love big pools of chocolate in their cookies? If you have any extra, place 2-3 more chunks on top of your cookies. The cookies look better, plus there will be more chocolate. Enough said.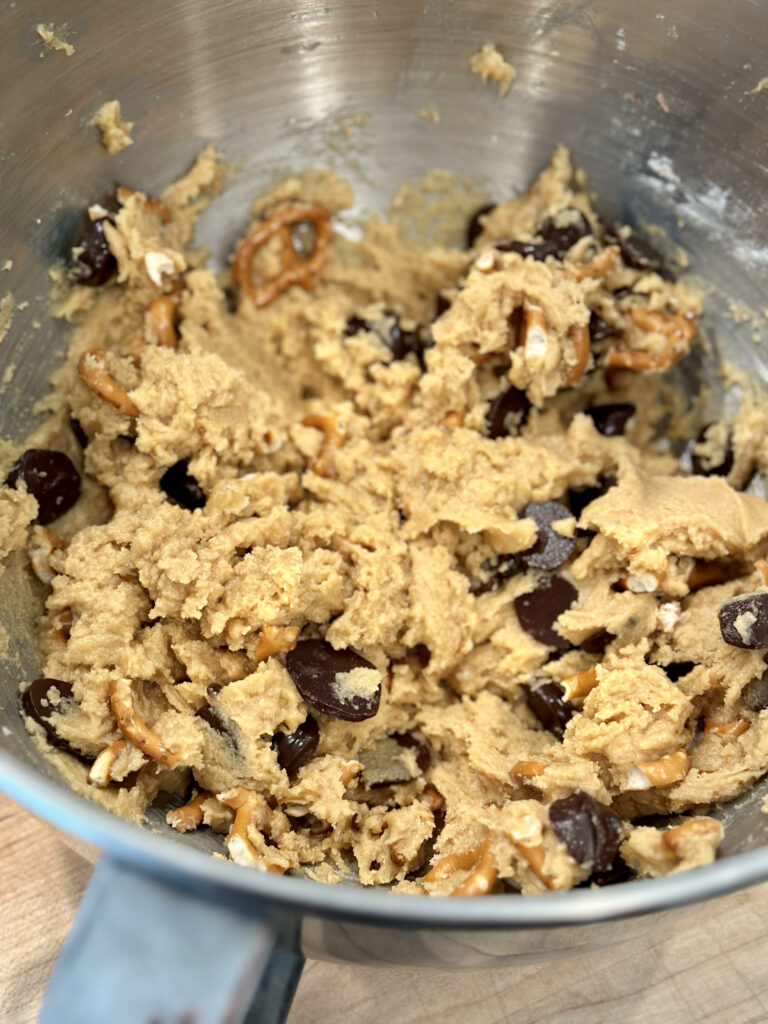 Let your cookie dough rest! In my recipe, I write to let it rest for an hour, minimum. But, the peanut butter cookies will turn out so much better if you leave them in the refrigerator for longer. The flavors have more time to get to know each other and the end result is just way better, in my humble opinion.
Sprinkle them with flaky sea salt right when they come out of the oven. The sweet salty combo, especially with peanut butter, is absolute perfection. I'm telling you, don't forget this step!
Ingredient Notes:
GF Cup4Cup All-Purpose Flour – This is my favorite brand. Make sure you get one with Xanthan Gum in it.
Baking Powder and Baking Soda – Yes, you need both.
Peanut Butter – I find natural or organic brands do not work as well. I go with smooth Skippy or Jif.
Peanut Butter Cookies with Chocolate Chips and Pretzels
Equipment
1 Stand Mixer

with a bowl and paddle attachment

Parchment Paper

2 Sheet Pans

Cookie Scoop

that fits 2 tablespoons
Instructions
Stir together the flour, baking powder, baking soda, and Kosher salt. Set aside for later use.

Place melted butter, peanut butter, and both sugars into the bowl of a stand mixer fitted with the paddle attachment. Mix on medium-low speed just until combined.

Add vanilla extract and egg. Raise heat to medium and mix for about 30 seconds. Scrape down the sides, if needed.

With the mixer running on medium-low, little by little, add in the flour mixture until just combined. Do not overmix. Add in the chocolate chunks (and pretzels, if using) just until combined.

Prepare a parchment lined baking sheet. Using a 2-tablespoon-sized cookie scoop, scoop the batter into portions onto the baking sheet. Press 2-3 extra chocolate chips onto the tops of each cookie, if desired. Cover with plastic wrap and refrigerate at least an hour or up to 3 days (the longer the better).

When ready to bake, remove cookie dough from the refrigerator. Adjust rack to middle position and preheat oven to 350°F. Line a sheet pan with parchment paper. Bake the dough in batches, spacing the pieces at least 2 inches apart from one another. Bake for 7 minutes, then remove from oven and tap sheet pan a few times lightly on the counter to flatten out the dough just a bit. Place sheet pan back into the oven, flipped the other way around, and bake for another 7-8 minutes, until lightly golden but still gooey on the inside.

Remove from oven and tap sheet pan a few times lightly on the counter to flatten even more. Sprinkle with flaky sea salt. Let cool for at least 5 minutes, then transfer to a wire rack to finish cooling, if desired.
Notes
The cookie dough can be frozen in an airtight container or plastic zip-close bag for up to 3 months. Space out onto a parchment-lined sheet pan and defrost completely before baking.