Get ready for the most perfect coconut rice of all time. Perfectly seasoned with just the right amount of coconut, cilantro, and lime.
I've been working on this Coconut Rice recipe for a while now. I wanted to get it just right before sharing it with you guys. This involved making batch after batch, switching the ratios of coconut milk, chicken stock, and lime each time. I even tried making one with sesame oil – It wasn't as good. My hard work paid off, resulting in a slightly sticky coconut rice, that is creamy, buttery, and zesty. You will LOVE it.
Is it more complicated than making plain white rice? Sure. We aren't just using water to cook the coconut rice. But it's still incredibly easy. The flavor is worth the extra zesting and chopping.
Can you use a rice cooker? Of course you can! Make it the same exact way, using the same amounts of liquid, and mix the lime zest and cilantro in at the end.
Wondering what to serve this with? Try my Thai Red Curry Roasted Chicken.
Ingredient Notes:
Jasmine Rice – It's important to use a long grain rice for this recipe, so that it doesn't get too mushy. Jasmine has the perfect fragrance for this recipe, so it's definitely what I'd recommend.
Coconut Milk – Not to be mistaken with coconut cream. You can use the unsweetened coconut cream from a can or a bottle. Shake before using, making sure you're not getting only the cream at the top or clear liquid part at the bottom.
Chicken Stock – You can also use vegetable stock if you'd like to keep the recipe vegetarian.
Lime – Zest is so important and adds a lot of flavor, don't forget this. Use a microplane to get the zest. If you happen to have a dry lime without much juice, use another half a lime.
Cilantro – If you're a cilantro hater, you don't have to use it at all.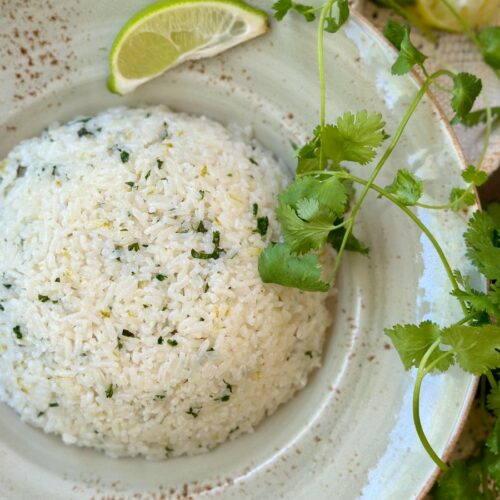 Cilantro Lime Coconut Rice
Equipment
1 Fine Mesh Sieve

1 Small Pot

with tight-fitting lid
Ingredients
1 ½

cups

jasmine rice

1

cups

plus ¼ cup coconut milk

Zest and juice from 1 lime

1 ½

teaspoons

Kosher salt

2

tablespoons

cilantro

finely chopped
Instructions
Place rice in a fine mesh sieve and rinse under cold water, stirring with your fingers to move the rice around, until the water runs clear, about 1 minute.

In a small pot, combine all the coconut milk, all the chicken stock, and lime juice and place over medium high-heat. Immediately when the liquid starts to bubble around the edges at a low simmer, add the rice and Kosher salt. Stir and cover the pot tightly (not opening the lid the entire time), then reduce heat to low, and cook until tender, 15 minutes. Turn off heat and let sit, still covered, for 10 minutes. (TIP: It's important not to remove the lid during these 25 minutes of cooking and resting).

Fluff rice with a fork and stir in lime zest and cilantro. Taste and season with additional lime juice and salt, if needed. Serve immediately.
Notes
Coconut rice can be cooled completely and then stored in an airtight container in the refrigerator for up to 3 days. Must be reheated until warmed through, this dish will not be good served cold or room temperature.