This Shaved Brussels Sprouts Salad is perfect for the Fall and Winter seasons. Serve it dressed with a tangy Cranberry Vinaigrette!
Looking for a new salad recipe? I've got you right here. I'm in love with this Shaved Brussels Sprouts Salad and its Cranberry Vinaigrette. *chef's kiss* I created this recipe with Thanksgiving in mind. We all have cranberry sauce on hand, so why not incorporate a little into a salad dressing? Or, it's the perfect day after Thanksgiving salad. Throw some turkey in there and you've got a full meal!
However, after developing this recipe I found myself craving it all Winter long. So no need to only make it one day a year! This is the perfect salad for warmer months.
How do I get the Brussels Sprouts so thin?
The easiest way: Buy them shaved. I've seen them sold at the grocery store this way. Do I recommend it? No. They go bad much quicker than if you cut them yourself.
The easy way: Buy a mandoline. It's not too expensive, and you'll end up using it for a bunch of different recipes. It will help you prep a bit faster. This one even comes with 5 different blades for grating and slicing. It's a very common tool for professional chefs to get perfectly thin slices of different vegetables and other food. It's very sharp though, so watch your fingers!
The normal way: If you're good with your knife, you can thinly slice the Brussels sprouts by just using your knife and cutting board. You just want to make sure you're getting thin enough slices.
Ingredient Notes:
Dried Cranberries: They obviously go very well with the cranberry vinaigrette. However, if you don't have them at home and want to substitute another dried fruit, like raisins, dried figs, or dried apricots, that should work too.
Pecans: You can also substitute walnuts, almonds, or even sunflower seeds. Keep in mind: the sunflower seeds will take less time to toast than the pecans.
Canned Jellied Cranberry Sauce: You can also use leftover homemade cranberry sauce. Cranberry Jam can also work, but it may be a bit sweeter than the cranberry sauce, resulting in a sweeter vinaigrette.
White Balsamic Vinegar: Regular balsamic vinegar will ruin the pink color of the vinaigrette. I like white balsamic here because it's a bit sweeter than other vinegars, like white wine. You can find it at most grocery stores, or right here.
Goat Cheese – Meredith Dairy makes my favorite goat cheese. Whole Foods carries them! You can find it here.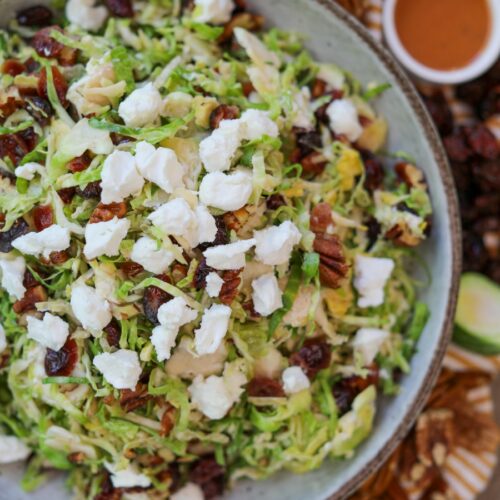 Shaved Brussels Sprouts Salad with Cranberry Vinaigrette
This Shaved Brussels Sprouts Salad is perfect for the Fall and Winter seasons. Serve it dressed with a tangy Cranberry Vinaigrette!
Ingredients
½

cup

dried cranberries

1

lemon

juiced

1

cup

pecans

3

tablespoons

canned jellied cranberry sauce

4

tablespoons

white balsamic vinegar

1

garlic clove

peeled

1

teaspoon

Dijon

1

teaspoon

hot sauce

¼

teaspoon

Kosher salt

6

tablespoons

extra-virgin olive oil

Freshly ground black pepper

1

lb.

Brussels sprouts

thinly sliced (I used a mandoline but you can also use your knife), washed. and dried

4

oz.

goat cheese

crumbled
Instructions
In a medium-sized microwaveable bowl, combine the dried cranberries and lemon juice. Microwave for 30 seconds then let cool completely in the lemon juice, tossing occasionally to coat. Once cooled, drain, reserving 1 tablespoon of the lemon juice (double this amount if doubling the recipe) for the vinaigrette.

While the cranberries cool, heat a medium-sized pan over medium heat. Add the pecans and toast, tossing occasionally, for 3-4 minutes, until lightly browned and fragrant. Transfer to a cutting board and roughly chop.

In the bowl of a food processor, combine the cranberry sauce, vinegar, reserved lemon juice, garlic, Dijon, tabasco, and salt. Run until smooth, then with the motor running, slowly drizzle in the olive oil until emulsified. Taste and season with freshly ground black pepper and more salt, if desired.

In a large serving bowl, combine the shaved Brussels sprouts, cranberries, pecans, and goat cheese. Dress with the vinaigrette, using as much as you'd like, and a pinch of salt and pepper. Toss to coat. Taste and season with additional salt and pepper, if needed.
Notes
One the salad is dressed, it's best to eat it immediately after serving. However, salad components can be prepped ahead of time and tossed when ready to serve.
Cranberry Vinaigrette can be made up to 5 days ahead of time and stored in an airtight container in the refrigerator for up to 5 days.