This Olive Oil Poached Cod is a simple and easy way to cook fish that results in a buttery and luxurious fillet that you're gonna love.
When you take a bite of this Olive Oil Poached Cod, you'll see why I'm obsessed. This slow-cooking method is one of my absolute favorites. Once it goes in the oven, you can set it and forget it. This makes it a great weeknight dinner for when you're extremely busy, but also wonderful for when you're hosting. It's hard to overcook the fish and it doesn't taste oily at all!
I love this recipe because it's a full meal with the potatoes and tomatoes. The potatoes must be boiled first, so that they can finish cooking in the oil with the fish. But the tomatoes are just cooked with the fish. They'll be perfectly soft and juicy, helping to create a sort of sauce for the fish.
The additional ingredients, like the garlic, thyme, lemon, and red pepper flakes, are used for flavoring the olive oil that the fish is cooked in. After cooking, you can strain the oil and use it again to cook (think another olive oil poached fish, pan seared fish, roasted potatoes or veggies). It'll be so flavorful and delicious after the aromatics infuse.
What Should You Serve This With?
So many things! That's the beauty of a simple recipe with classic flavors. Try stewed lentils, roasted broccoli, or sautéed spinach. Better yet, my recipes for Swiss Chard with Feta, Olives, and Pine Nuts or my Simplest Shaved Mushroom Salad would be absolutely perfect.
Ingredient Notes:
Baby Yellow Potatoes – If you can't find the baby ones, regular Yukon potatoes are fine, too! Just peel and cut them into quarters.
Cod – I like cod for this recipe, but any thick white fish would work. Halibut, mahi mahi, grouper, chilean sea bass, or snapper could all be fine here.
Grape Tomatoes on the Vine – If you can't find them on the vine, regular grape tomatoes will do!
Fresh Thyme – If you don't have fresh thyme, you could also use fresh rosemary, dried thyme, or dried rosemary.
Olive Oil – No need to use a high quality extra-virgin olive oil here. This is the one I used!
Flaky Sea Salt – I like to use Maldon Sea Salt to sprinkle over the dish.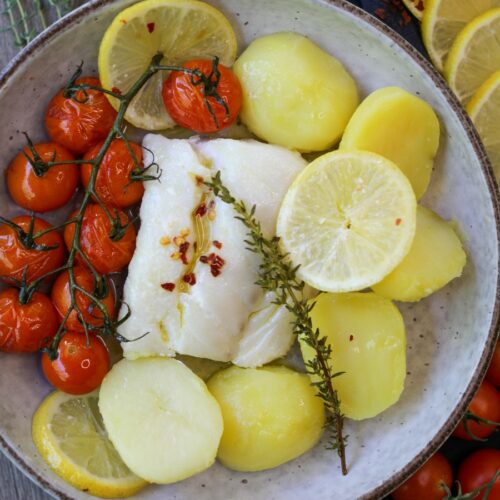 Olive Oil Poached Cod
This Olive Oil Poached Cod is a simple and easy way to cook fish that results in a buttery and luxurious fillet that you're gonna love.
Equipment
1 Medium Pot

1 Large Oven-Safe Pan with a lid, 2 inches deep

or a baking dish, using tinfoil to cover
Ingredients
1

lemon

15-18

oz.

baby yellow potatoes

peeled and cut in half lengthwise (leave the really small potatoes whole)

Kosher salt

2

8 oz. fillets cod, skin removed

room temperature

2

cloves

garlic

peeled and smashed

2

vines of grape tomatoes

about 16 tomatoes total

3

sprigs thyme

Olive oil

enough to cover fish (This will depend on the size of the baking vessel you use, I needed 3 cups)

¼

teaspoon

red pepper flakes

Flaky sea salt

to taste

Freshly ground black pepper
Instructions
Adjust rack to middle position and preheat oven to 275°F. Thinly slice 4 lemon rounds, leaving the remainder for garnish.

Place the potatoes in a medium pot and cover with heavily salted water by 2 inches. Place over medium-high heat and bring to a boil. Then reduce heat to medium-low and cook until tender but not too soft or falling apart, 10 minutes. Drain and set aside.

Meanwhile, sprinkle the cod generously with Kosher salt, covering all sides. Let sit for 10 minutes.

Lay the lemon slices on the bottom of a large, oven-safe pan or baking dish (should be at least 2 inches deep). Place the salted cod, cooked potatoes, smashed garlic cloves, grape tomato vines, and thyme on top of the lemons. Pour olive oil over the fish so it is completely submerged. Sprinkle red pepper flakes over the oil.

Cover pan tightly with a lid (If using a baking dish, cover with tinfoil). Place into the oven and cook for about 30-32 minutes, until the fish flakes easily with a fork. Using a slotted spatula, remove fish, potatoes, and tomatoes from the oil and transfer to a plate. Sprinkle with flaky sea salt and freshly ground black pepper, to taste Serve with fresh lemon on the side, for squeezing over the fish.
Notes
Potatoes can be pre-cooked up to 3 days ahead of time and stored in an airtight container in the refrigerator. Bring to room temperature before poaching in the oil. 
Once fish is cooked, it's best served immediately.