Burgers aren't just for summer! You'll want to make these Spinach and Feta Turkey Burgers all year 'round, they're THAT good.
Seriously. These Spinach and Feta Turkey Burgers are so good I may have eaten three in the span of 10 minutes. I often find turkey burgers to be a bit dry, but these are far from that. They are so incredibly juicy and flavorful, my spinach-hating husband even loves them!
It may seem like you're putting a lot into this burger, but the final result is WORTH IT. Buy the spinach that comes in a bag, so you can pop it into the microwave and make your life easier. Let that cool, then mix in grated red onion, fresh oregano, garlic powder, and a touch of cumin. Salt and pepper too, of course. Add in your turkey and feta cheese and right there you'll have utter perfection.
You can cook these turkey burgers in a pan, on a flat top, or on a grill. If cooking on a grill, make sure your grates are cleaned and greased. Ground turkey is extremely sticky. My preference is cooking them in a pan on the stovetop or on a flat top. You'll get a better sear and have more control when flipping the burgers.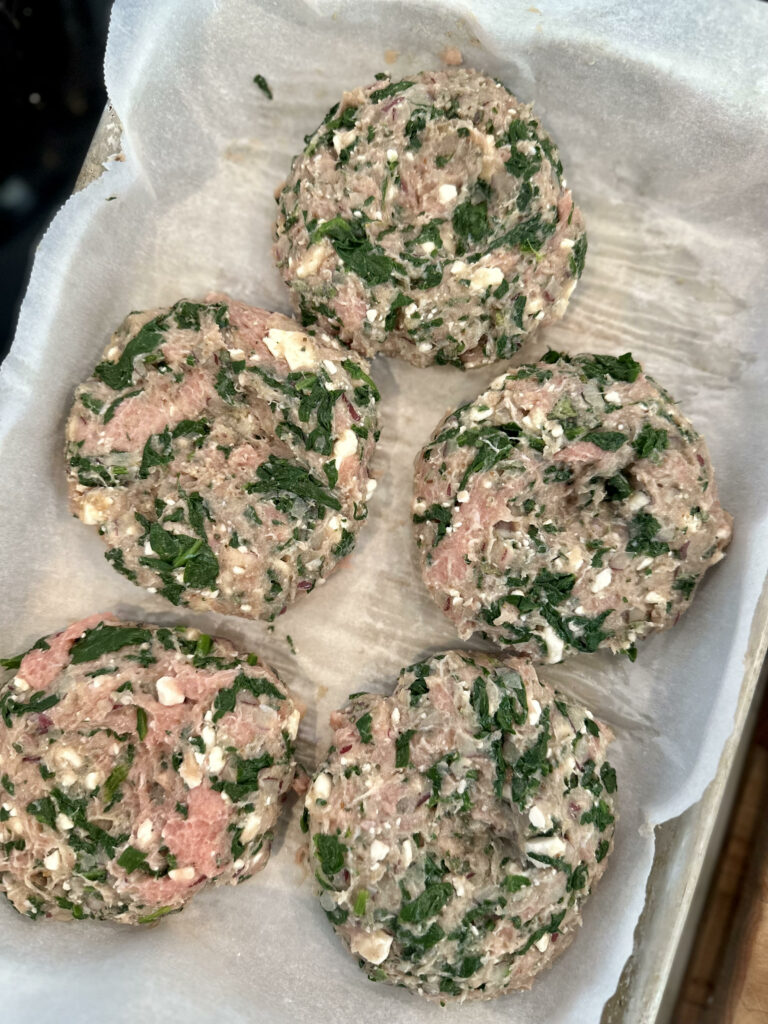 Ingredient Notes:
Baby Spinach – I buy the one that comes in a plastic bag because it makes my prep easier. However if you can't find it, you can steam the spinach yourself.
Beefsteak Tomatoes – They're big enough to fill a burger. But if you prefer another type of tomato, like a Roma, go right ahead. You may need 2 or 3 slices per burger.
Fresh Oregano – I think a fresh herb is unmatched in certain applications, like a quick-cooking burger. You can also substitute dried oregano here, but use a quarter of the amount. Ratio for dried herbs to fresh herbs usually is 1/4:1.
Red Onion – I prefer the red onion here, but you can also substitute a yellow onion.
Garlic Powder – You should get this brand here, Burlap and Barrel, it's my absolute favorite and you'll truly taste the flavor difference.
Ground Cumin – Burlap and Barrel also makes the MOST AMAZING cumin. Only problem is that it comes in whole seeds and you have to grind it yourself. Which is fine for me, because keeping spices whole makes them stay fresher for longer.
Ground Turkey – I prefer a blend with more fat. I would not recommend buying Ground Turkey Breast, which has less fat. The burgers will be juicier this way.
Hamburger Buns – I used gluten-free, obviously. But they can be made with any burger buns you'd like. Also good in a lettuce wrap.
Spinach and Feta Turkey Burgers
Equipment
Parchment Paper

1 Sheet Pan

Microwave

1 Large Mixing Bowl

Large Pan, Flat Top, or Outdoor Grill

1 Medium Bowl
Ingredients
For the Burgers:
5

oz.

baby spinach in plastic bag

2

beefsteak tomatoes

sliced into ¼ inch thick rounds

Kosher salt

Freshly ground black pepper

2 ½

tablespoons

fresh oregano

finely chopped

½

red onion

grated and water gently squeezed out

1

teaspoon

garlic powder

½

teaspoon

ground cumin

1

lb.

ground turkey

Use a blend with higher fat, not just ground turkey breast, for juicier burgers

3

oz.

crumbled feta

5

hamburger buns

sliced in half, toasted or grill-marked

Kalamata Olive Aioli

recipe below

Lettuce leaves

whichever you prefer for burgers
For the Kalamata Olive Aioli:
½

cup

mayonnaise

6

kalamata olives

pitted and minced

Lemon

zest and juice to taste

Kosher salt

Freshly ground black pepper
Instructions
For the Burgers:
Adjust rack to top position and preheat oven to 425°F.

Place tomato rounds on a parchment-lined sheet pan. Sprinkle with ½ tablespoon fresh oregano (double this amount if doubling the recipe), Kosher salt and freshly ground black pepper. Roast for 20 minutes, until tender.

Meanwhile, pierce the bag of spinach a few times with a sharp knife. Microwave for 1 minute and then let cool in bag for 5 minutes. Place spinach in a clean towel and squeeze out any excess liquid. Roughly chop and transfer to a large mixing bowl.

To the bowl with the cooled spinach, add the red onion, garlic powder, cumin, and a generous amount of Kosher salt (I used 1 ½ teaspoons for 5 burgers), freshly ground black pepper, and remaining oregano. Mix well to combine, then add in the ground turkey and feta and gently toss to coat.

Divide mixture into 5 equal portions and form into patties (It helps if you wet your hands first since the ground turkey is sticky). Press down to create a dimple in the center. At this point you can cover and refrigerate the patties overnight. Let come to room temperature before cooking.

Stovetop or Flattop Cooking Method (this is the method I prefer): Heat a large drizzle of avocado oil in a large pan over medium-high heat. Add the turkey burgers and cook for 4 minutes per side. Cover the pan with a lid for the last 2 minutes (this helps the burgers cook through). If using a flattop, cover the burgers with a large pan lid as well.

Outdoor Grill Cooking Method: Heat a clean grill over medium-high heat. Grease your grill or rub with the cut side of a potato to make it nonstick (I like to do both since ground turkey is extremely sticky). Spray both sides of the burgers with cooking spray. Cook burgers for 5-6 minutes per side, until browned and cooked through.

Fill the hamburger buns with the aioli, burgers, lettuce, and roasted tomatoes and serve immediately.
For the Kalamata Olive Aioli:
In a medium bowl, stir together the mayonnaise, minced olives, lemon zest, and a squeeze of lemon juice (I used zest from half a lemon and juice from a quarter lemon for ½ cup of mayonnaise). Season with Kosher salt and freshly ground black pepper, to taste.
Notes
Raw formed burgers can be stored covered in the refrigerator overnight to cook the next day. They can also be stored in airtight containers, wrapped in plastic wrap or closed in plastic Ziplock bags, in the freezer for up to 3 months. 
Cooked burgers can be stored in an airtight container in the refrigerator for up to 3 days. Reheat until completely warmed through. 
Roasted tomatoes can be stored in an airtight container in the refrigerator for up to 2 days. 
Kalamata Olive Aioli can be stored in an airtight container in the refrigerator for up to 1 week.