This Lemony Chicken with Olives and Capers is an easy, but still massively flavorful, dinner for all occasions.
I love this Lemony Chicken recipe because the ingredients are all things I have lying around. Olives and capers are always in our fridge or pantry. My husband and I love martinis, so we ALWAYS have green olives. It's a perfect dinner for a casual weeknight, but also great for guests. The classic flavors are sure to please almost anyone, so it's a safe bet for a group!
Another plus? It also keeps very well overnight, so it's a dish you can make ahead (just don't add in the butter at the end until ready to serve).
Olives and capers. I love their punch and brininess. They also add great texture. They add so much flavor to this dish and to the sauce. I even add a bit of olive juice into it as well! If you are a briny food fiend like me, you will LOVE this recipe.
So what can you serve with this Lemony Chicken with Olives and Capers? Almost any type of potato: mashed, roasted, baked, you name it! Rice, wild rice, risotto, pasta, the list goes on and on. This dish goes with everything.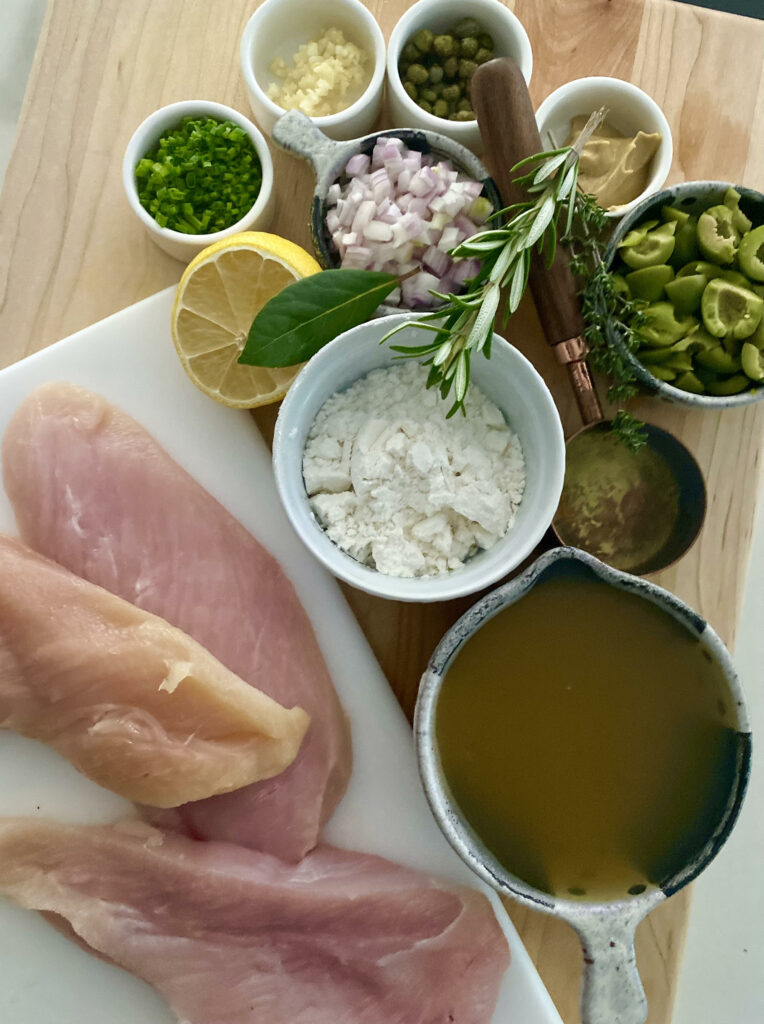 Ingredient Notes:
Chicken Breasts – You can buy 4 chicken cutlets (about 1.5 pounds worth) or 2 large chicken breasts and cut them into cutlets yourself.
Gluten-Free Flour – If you're not gluten-free, you can use regular flour here.
Butter – This is necessary at the end of the recipe to help the sauce consistency and make it creamy and velvety.
Avocado Oil – If you don't have this in your kitchen, you can use non-extra virgin olive oil or any mild flavored oil, like vegetable oil.
Shallot – Can substitute 1/3 cup of finely diced yellow onion, however shallot would be best because it's slightly sweeter.
Castelvetrano Olives – I prefer these to other green olives, but if you cannot find them, another green olive will do. Make sure to get them with their juices!
Fresh Bay Leaf, Thyme, and Rosemary – If you don't have these you can substitute dried. One dry bay leaf, 1/2 teaspoon of dried thyme, and 1/2 teaspoon of dried rosemary.
Chives – You can substitute fresh parsley here, if needed.
Slivered Almonds – I think they add a really nice crunch, but the dish is also wonderful without them.
Cooking Tips:
You shouldn't skip the flour. Lightly coat the chicken with it before searing. This will help the final result, thickening the sauce and giving it a velvety texture.
You can toast your almonds ahead of time, but don't forget to do so, the texture is so much better. You can easily buy pre-toasted almonds or toast your almonds days ahead of time in preparation for this recipe.
Add the butter off of the heat. If you have an induction stovetop, I would even go a step further and remove your pan from the induction burner completely, as there is always a lot of residual heat there. If the butter gets too hot, the milk solids will separate and your sauce won't be beautiful and creamy looking.
Let's talk sauce consistency. In the end, after adding the butter, if it's too thick, you can always add a splash more of warmed chicken stock.
Lemony Chicken with Olives and Capers
This Lemony Chicken with Olives and Capers is an easy, but still massively flavorful, dinner for all occasions.
Equipment
1 Meat Mallet

1 Large Skillet

Paper Towels

1 Small Pan

If using almonds
Ingredients
2

large chicken breasts

1 ½-2 lbs. worth, cut in half into cutlets

Freshly ground black pepper

2

tablespoons

butter

4

teaspoons

avocado oil

1

shallot

finely diced

2

garlic cloves

minced

¼

cup

dry white wine

1

cup

chicken stock

2

teaspoons

Dijon

Juice from half a lemon

1/3

cup

Castelvetrano olives, pitted

roughly chopped

2

tablespoons

olive juice

from the jar of Castelvetrano Olives

1

tablespoons

capers

nonpareil

1

fresh bay leaf

1

sprig of thyme

1

sprig of rosemary

2

tablespoons

of minced chives

3

tablespoons

slivered almonds

optional, as garnish
Instructions
Place chicken onto a cutting board and pound lightly with a mallet to tenderize. Season all over with Kosher salt and freshly ground black pepper. Lightly coat in flour on all sides.

Melt 1 tablespoon of butter and heat 2 teaspoons of avocado oil in a large skillet over medium-high heat. Add chicken and sear until browned, 3-4 minutes on the first side and 1-2 minutes on the second side. Add another drizzle of oil, if needed. Turn off heat and transfer chicken to a plate. Wipe out any burnt bits from the pan with a paper towel.

In the same pan, heat 2 teaspoons of avocado oil over medium heat. Add shallots and garlic and cook, stirring occasionally, until golden, 1-2 minutes. Add white wine and cook until reduced by half. Add the chicken stock, Dijon, lemon juice, olives, olive juice, capers, bay leaf, thyme, and rosemary. Stir to combine and transfer the chicken back into the pan. Bring liquid to a simmer, then reduce heat to low and cover pan. Cook until the chicken is almost cooked through, 9-10 minutes.

Uncover the pan, turn the chicken completely in the sauce to coat, and raise the heat to medium. Cook for another 4-6 minutes, until the chicken is cooked through and the sauce is reduced and thickened. Remove from heat and stir in the chives and 1 tablespoon of butter. Taste and season with an extra squeeze of lemon, Kosher salt and freshly ground black pepper, if needed.

While the chicken cooks, heat a small dry pan over medium heat. Add the almonds and cook, stirring occasionally, until toasted and golden, about 3 minutes. Remove from heat and set aside.

Transfer chicken to a serving dish and pour sauce on top (alternatively, you can serve this directly in the pan). Garnish with toasted almonds, if using, and serve immediately.
Notes
Chicken can be stored in an airtight container in the refrigerator for up to 3 days. 
If making ahead of time, do not stir in the butter at the end until you have reheated the dish and are ready to serve. Reheat in oven safe dish until warmed through, in a pan on the stove, or in the microwave. Stir in butter after warming, until melted.