The only way you should be making bok choy when you want a simple side dish. It literally takes no time at all. Bing, bang, boom, you've impressed your guests!
You can clean and cut the bok choy ahead of time, but this dish is best served immediately after braising. If you reheat this, the greens may lose their beautiful color.
If you want to add a bit of spice, feel free to throw in some red pepper flakes to the soy liquid (you don't ALWAYS have to follow the recipe exactly, the kitchen is your playground).
What Should You Serve This With?
These Bok choy would be amazing served alongside the Sweet and Spicy Soy Marinated Rib Eye. If you don't eat red meat, any fish would be absolutely perfect! For another side dish, try white rice or rice noodles.
Ingredient Notes:
Tamari – If you'd like to use regular soy sauce, feel free to do so!
Chicken or Vegetable Stock – I like using stocks in cooking when I can, since it makes the final result more flavorful. But if you do not have stock or broth on hand, you can always use water.
Maldon Salt – A truly delicious sea salt with large flakes. I wouldn't use this for cooking, just finishing dishes by sprinkling on top. If you do not have Maldon salt, you can use any other flaky salt, or regular kosher salt. Buy it here!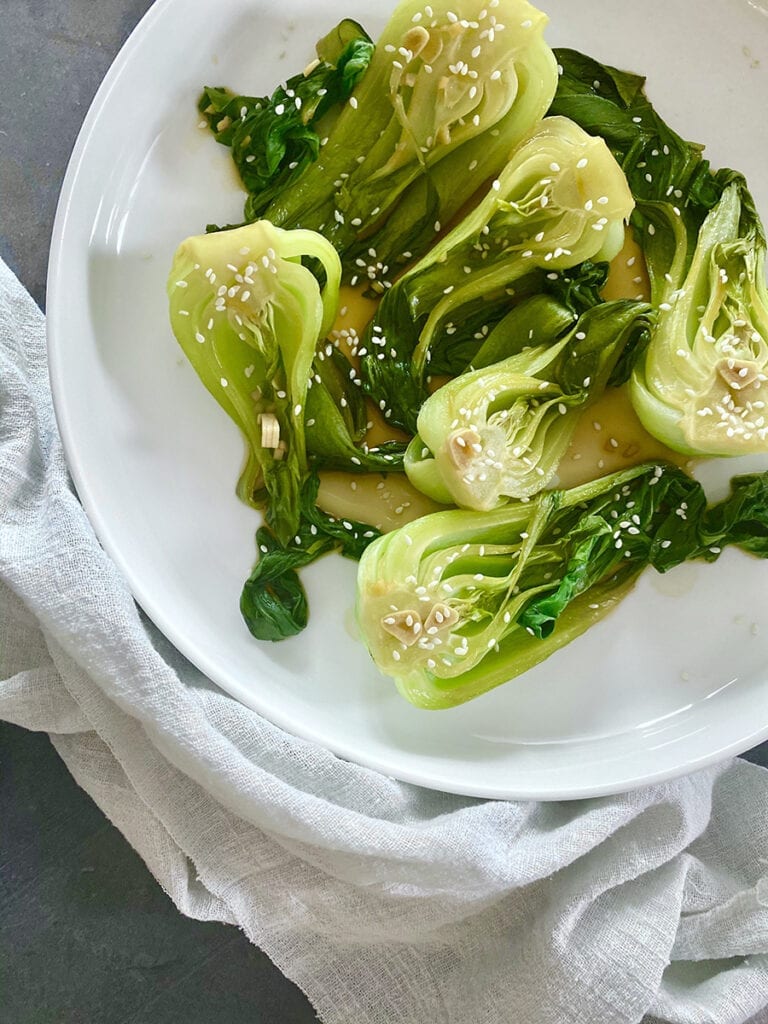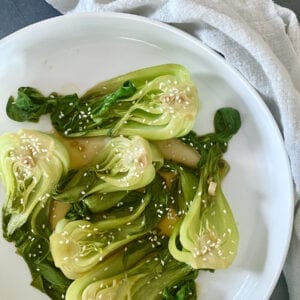 Soy-Ginger Braised Bok Choy
Equipment
Large Skillet

Tongs

Small Pan
Instructions
In a large pan, heat avocado oil over medium heat. Add garlic and ginger and cook, stirring often, until golden, 30 seconds to a minute

Add bok choy, cut sides down, then add sesame oil, soy sauce, and stock. Cook for 2 minutes, then flip over the bok choy, cover the pan and cook for an additional 1-2 minutes, until tender (Cooking time will depend on how large your bok choy are. They are finished when you can stick a knife into the thick bulb of the bok choy. If they are not tender, then continue cooking for a bit longer, about 30 seconds).

Meanwhile, heat a small pan over medium heat. Add sesame seeds and cook, stirring occasionally, until golden, 1-2 minutes. Set aside.

Place the bok choy onto a serving plate and drizzle with any remaining sauce from the pan. Top with Maldon salt, to taste, and the sesame seeds. Serve immediately.
Notes
If reheated, the vibrant green color will disappear and turn a murky green. However, the bok choy can be stored in the refrigerator for up to three days. It's wonderful eaten cold or at room temperature but can also be chopped up and added to a stir fry or soup!