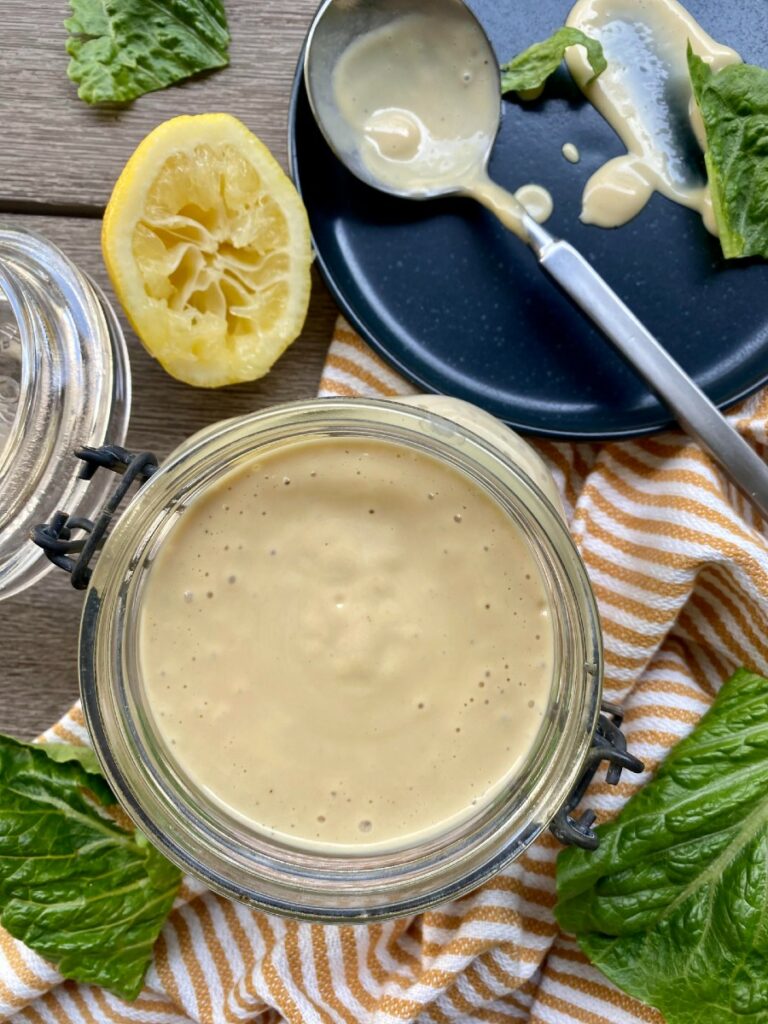 For those of us who are constantly disappointed in store-bought Caesar Salad Dressings, this one's for you!
Seriously though. Time and time again I try new Caesar Dressings from different grocery stores. Yes, I buy dressings sometimes to make my life easier. But time and time again, I am frustrated because they're never as good as I want them to be. Here's my recipe for an Easy Caesar Dressing so that you'll never be disappointed again.
I use all the classic Caesar ingredients: mayo, garlic, anchovies, Dijon, lemon, Worcestershire. But I also add in white wine vinegar and a small pinch of sugar. I think both of those ingredients help round out the flavor.
I love using this with a classic Caesar Salad, obviously. But it's also a great condiment for any protein. I also use it in a Caesar Salad twist, in my recipe for Fennel Caesar Salad with Pears and Toasted Pecans. It's really good, you should try it!
Recipe Tips:
Slowly emulsify. Make sure not to pour in either of the oils too quickly, or else you'll risk the dressing separating.
Ingredient Notes:
Mayonnaise – I like to use classic Hellman's, the full fat kind. I find it emulsifies better than organic or olive oil-based mayos.
Anchovies – I use anchovies packed in oil!
Sugar – This isn't necessary if you're very against using sugar, but I do think it makes the dressing THAT much better. Also, it's 1/4 teaspoon of sugar for 2 cups of dressing. You'll be okay.
Avocado Oil – I like using avocado oil because it's healthier than some other neutral oils. But, you can use vegetable, corn, or canola oil here instead, if you'd like.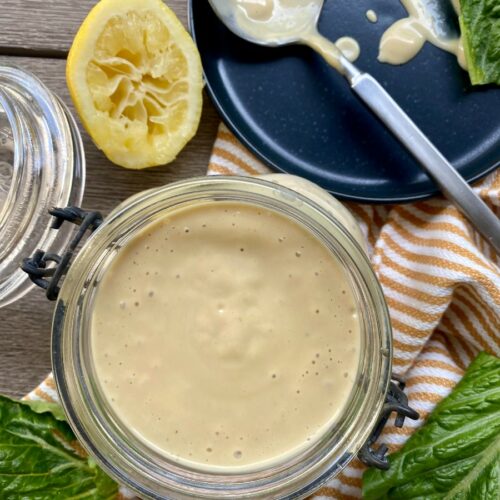 Easy Caesar Dressing
Ingredients
1

cup

mayonnaise

8

garlic cloves

3

tablespoons

lemon juice

3

tablespoons

white wine vinegar

1

tablespoon

Worcestershire sauce

1 ½

tablespoons

Dijon mustard

¼

tsp

sugar

½

teaspoon

Kosher salt

Freshly ground black pepper

to taste

½

cup

avocado oil

½

cup

extra-virgin olive oil
Instructions
Put all the ingredients except for the avocado oil and olive oil into a blender and process until smooth. With the blender running on medium speed, slowly stream in the avocado oil and olive oil until emulsified. Taste and adjust seasoning, adding more Kosher salt and freshly ground black pepper, if necessary.
Notes
Dressing can be stored in an airtight container in the refrigerator for one week.