How would you like to make perfectly cooked fish, every time? You must try this Fluke Cooked in Parchment with Zucchini and Tomatoes!
Have you ever cooked fish in parchment paper before? Now's the time to try with my recipe for Fluke Cooked in Parchment. It's one of my favorite ways to cook fish. The result is this beautifully tender and juicy fillet. Literally every time. The combination of extra-virgin olive oil, wine, and juices from the vegetables help to create this fabulous sauce as well.
I actually first ate fish cooked in parchment when I was in culinary school and fell in love. It was one of the recipes we had to learn to make. We had to cut the vegetables all in perfect matchstick shapes and lay them perfectly on top of the fish. It was absolutely gorgeous. I switched it up for you to make the prep a bit easier, and the end result is still as beautiful.
Don't like some of the vegetables used in this recipe? Feel free to substitute with another. I wouldn't use harder vegetables, like carrots, since they require additional cook time, but mushrooms, bok choy, fennel, and corn are some good options. Just cut them (minus the corn) into similar-sized pieces as I do for the vegetables in this recipe.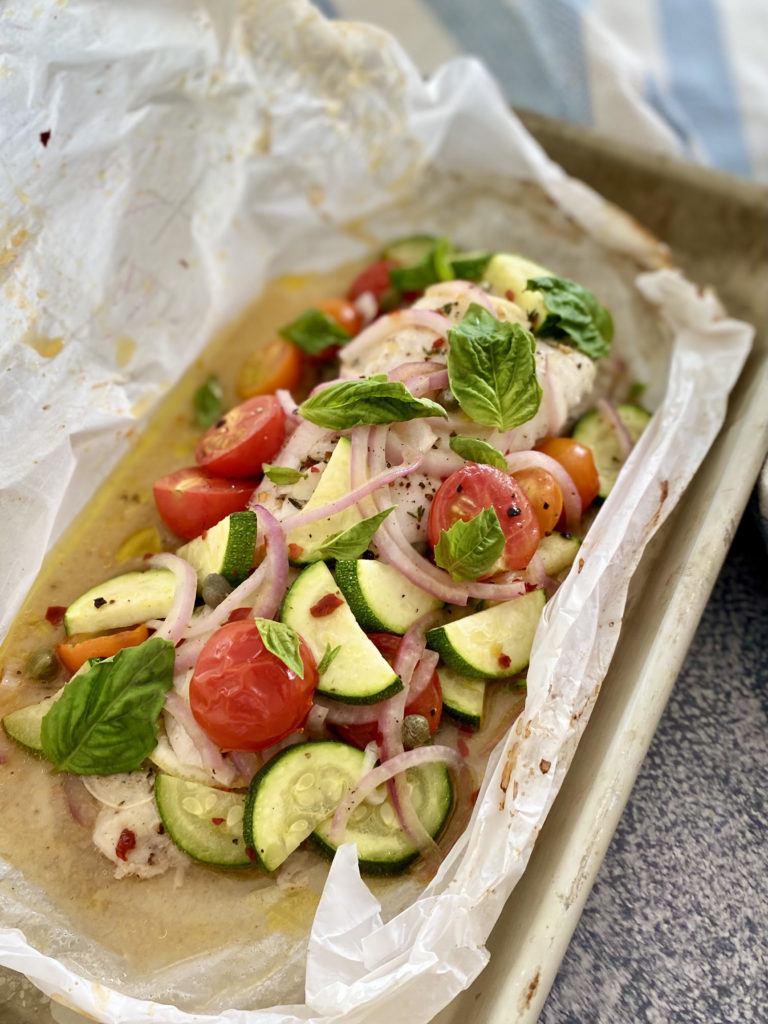 What Should You Serve With This Dish?
So many delicious sides come to mind! Try baked, boiled, or roasted potatoes. Try any type of rice, I think wild rice would be particularly nice with this. If cutting carbs, a great salad would be wonderful, maybe with nuts and cheese. Freshly shaved parmesan or goat cheese, perhaps? So many options, I can't wait to see what you choose to serve with it!
Ingredient Notes:
Fluke

– Flounder and Lemon Sole are almost identical and would be great substitutions here. Any other flaky white fish (without skin) would work, too! I only like skin on fish when it's crispy.
Fluke Cooked in Parchment
Equipment
Medium Bowl

Parchment Paper

Sheet Pan
Ingredients
1

small zucchini

sliced into ¼-inch thick half moons

½

small red onion

thinly sliced

12

assorted heirloom cherry tomatoes

sliced in half

4

teaspoons

capers

non-pareils

2

tablespoons

extra-virgin olive oil

EVOO

2

tablespoons

dry white wine

½

teaspoon

red pepper flakes

1

teaspoon

Kosher salt

Freshly ground black pepper

to taste

1

lb.

4 fillets fluke (lemon sole and flounder are very similar)

seasoned on both sides with Kosher salt and freshly ground black pepper, to taste

2

cloves

garlic

thinly sliced

4

sprigs thyme

leaves picked from stems

6

thin slices lemon

Fresh basil leaves
Instructions
Position a rack in the upper third of the oven and preheat to 425°F.

In a medium bowl, mix together the zucchini, red onion, cherry tomatoes capers, EVOO, wine, ¼ teaspoon red pepper flakes, 1 teaspoon of Kosher salt, and freshly ground black pepper. Taste and season with more salt and pepper, if desired.

Cut two pieces of parchment paper that are about 18 inches long and fold each in half horizontally, not lengthwise.

Place a piece of parchment paper on a sheet pan and put one fillet of fish on top, aligning it right next to the fold. Sprinkle with a pinch of red pepper flakes, half a clove of sliced garlic, and a pinch of thyme.

Lay three lemon slices on top, then place a second fillet on top of the lemon. Sprinkle with a pinch of red pepper flakes, half a clove of sliced garlic, and a pinch of thyme.

Cover the fish with half of the vegetable mixture (leaving the other half for the second portion).

Fold the top half of parchment over the fish and roll each side in to close, pinching and pressing it shut. Repeat with the remaining fillets and place the parchment packets on the same sheet pan.

Bake for 14 minutes, until the fish is cooked through. If choosing to only use one fillet, bake for 10 minutes.

Transfer packets to plates and serve immediately. You can allow guests to unwrap the packets themselves, or do it for them. Serve with fresh basil leaves, for garnish.
Notes
Storage Notes: This dish is best eaten immediately. However, if you'd like to do some prep ahead of time, cut and mix the vegetables together in a bowl without the EVOO, wine, salt, and pepper. Season when ready to cook. You can also pre-cut and fold the parchment paper.