Better than your local takeout place! Dive into these rice noodles on a lazy day, and be prepared to eat more than one bowl.
I created this recipe for Chili Garlic Rice Noodles at the beginning of our COVID quarantine. We had left New York City and there weren't many restaurants open where we were hiding out. We had a fun night playing drinking games the night before, cue the hangover. So what is better than Chinese food on a Sunday after a night of drinking? Absolutely nothing. We needed these noodles and we needed them ASAP. Luckily I had brought bagfuls of every ingredient I thought we would need, including thin rice noodles and chili garlic flakes! Meant to be, I think.
Needless to say, they were a hit and satisfied every craving (the following Sunday I tried Sesame Chicken – will post a recipe for that later). I continued to make them again and again until I perfected this recipe. And each time I made them they were gobbled up, never getting old.
So why make these when you can just order takeout? Aside from the pleasure of cooking and creating something yourself, it's nice to know what ingredients are going into your food. Sometimes the food coming from takeout is disappointing, never hitting the mark, a little inconsistent. You know what I mean. This recipe is right, every single time. Make it and love it.
It's also incredibly easy, just put all the ingredients in a bowl and toss to coat. For the rice noodles (make sure they're vermicelli – super thin) all you have to do is soak them in boiling water for 5 minutes. Chicken? So simple for so much flavor!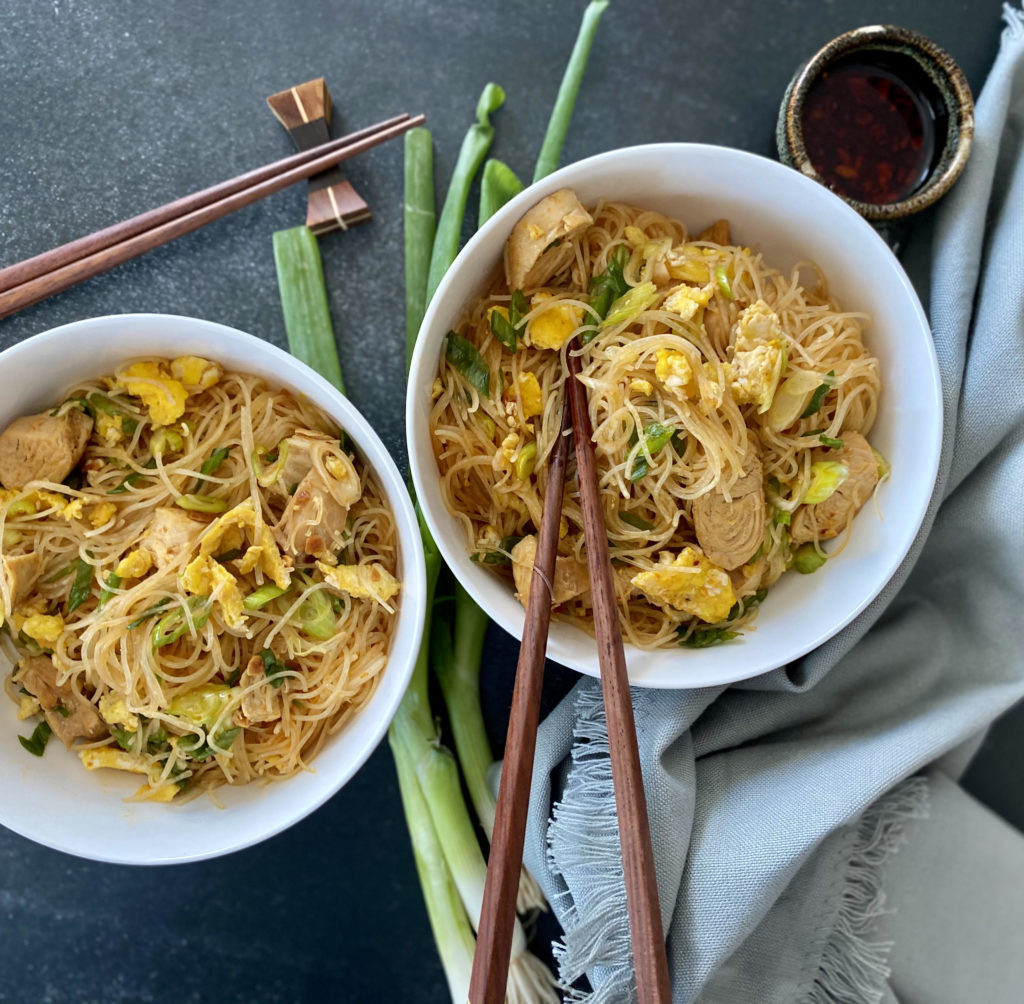 Ingredient Notes:
Chicken Tenderloins – Feel free to use chicken breast here instead, if you cannot find a packet of just tenderloins at the supermarket.
Soy Sauce – I use Tamari, because hellooooo, I'm gluten-free, but regular soy sauce is perfectly fine here, too.
Avocado Oil – I love using avocado oil for cooking when I am sautéing, stir fry-ing, or searing. It has a high smoke point, which means it can get very hot before it starts to smoke and burn, similar to other neutral oils, like vegetable or canola. However, it's SO MUCH healthier than those oils, almost as healthy as olive oil. You can read more about it here. If you want, you can substitute olive oil or grapeseed oil, but you should be able to find avocado oil in most grocery stores.
Vermicelli Rice Noodles – Some brands are not great, the noodles fall apart or don't have the right texture. Ka Me noodles are my favorite!
Chili Garlic Crisp – So popular right now! These keep forever since they're preserved in oil. If you can't find these, you cal substitute Sambal Olek (found at most grocery stores), but I recommend ordering the chili garlic crisps on Amazon, it'll be worth it.
Hot Chili Oil – A really great addition here that can also be found at a lot of grocery stores. You can substitute a little more sesame oil and regular oil if you can't find it or don't want to use it.
Fish Sauce – This is a recipe must. You will not get the same flavor without it!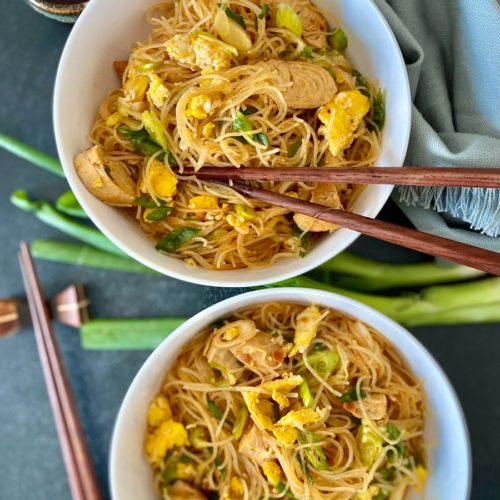 Chili Garlic Rice Noodles with Chicken
Equipment
Medium Skillet

Small Non-Stick Saucepan

Rubber Spatula

Medium Pot

Colander

Large Mixing Bowl
Instructions
In a medium skillet over medium-high heat, add 2 teaspoons of avocado oil. When the oil is hot, add the chicken, spacing out the tenderloins in the pan so they are not touching each other. Sear for one minute, then flip each piece over, turn the heat to low, and add the soy sauce, rice vinegar, ½ teaspoon of sesame oil, and garlic powder. Cover tightly and cook for 5 minutes, then turn off the heat and let sit, still covered, for another 5 minutes. Do not remove the lid during these 10 minutes. Cut each tenderloin crosswise into ½ inch slices, then place the pieces back into the soy liquid, tossing to coat.

In a small non-stick saucepan over medium heat, add 1 teaspoon of avocado oil. Crack the eggs into the pan, and add 1/8 teaspoon of salt. Break up the yolks and scramble them with a rubber spatula. Spread them out in the pan in an even layer and cook for 1 ½ minutes. Flip them over (it's okay if the eggs break and you cannot flip the entire pan over at once) and cook until the eggs are completely cooked through, about 1 minute. Flip onto a cutting board and slice the eggs into ½ inch strips. Then cut each strip in half.

Fill up a medium-sized pot of water and bring to a boil. Turn off the heat and add the noodles. Let sit in the hot water for 5 minutes until tender, stirring occasionally. Drain completely, making sure there is no extra water, and place the noodles in a large mixing bowl.

Add the rest of the sesame oil to the noodles, along with the chili garlic crisp in their oil, the hot chili oil, fish sauce, scallions, the chicken and the soy sauce cooking liquid, and the eggs. Toss to combine, then serve immediately.
Notes
Chicken Prep and Storage: The chicken can be made one day ahead of time and stored in an airtight container in the refrigerator. Reheat in a small pot in the soy sauce cooking liquid, bringing the liquid to a boil before adding it to the noodles.
Noodle Storage: The noodles can be made three days ahead of time and stored in an airtight container in the refrigerator. Reheat them in a microwave, or place them into an oven-safe dish and reheat them at 350°F until warmed through.