Like a Caesar Salad, but different. This Grilled Broccolini Caesar is a fun twist on everyone's favorite salad.
If I had to pick one component of this dish that makes it as amazing as it is, I couldn't. You need them all to work together to make this incredible Grilled Broccolini Caesar.
The vegetable itself is one of my favorites – broccolini. I blanch it first, which does a few things for this recipe. It helps keep the broccolini beautifully vibrant green. It also pre cooks the vegetable so that all you have to do is char it on the grill. You don't have to worry about it cooking through all the way when you throw it on the grill, because it already is. This is especially beneficial when hosting a dinner or a party.
Caesar Dressing. My recipe is absolutely BOMB and I think you all will love it. It's a perfect balance of garlic, anchovy, creamy, and lemony. It's not too thin and not too thick.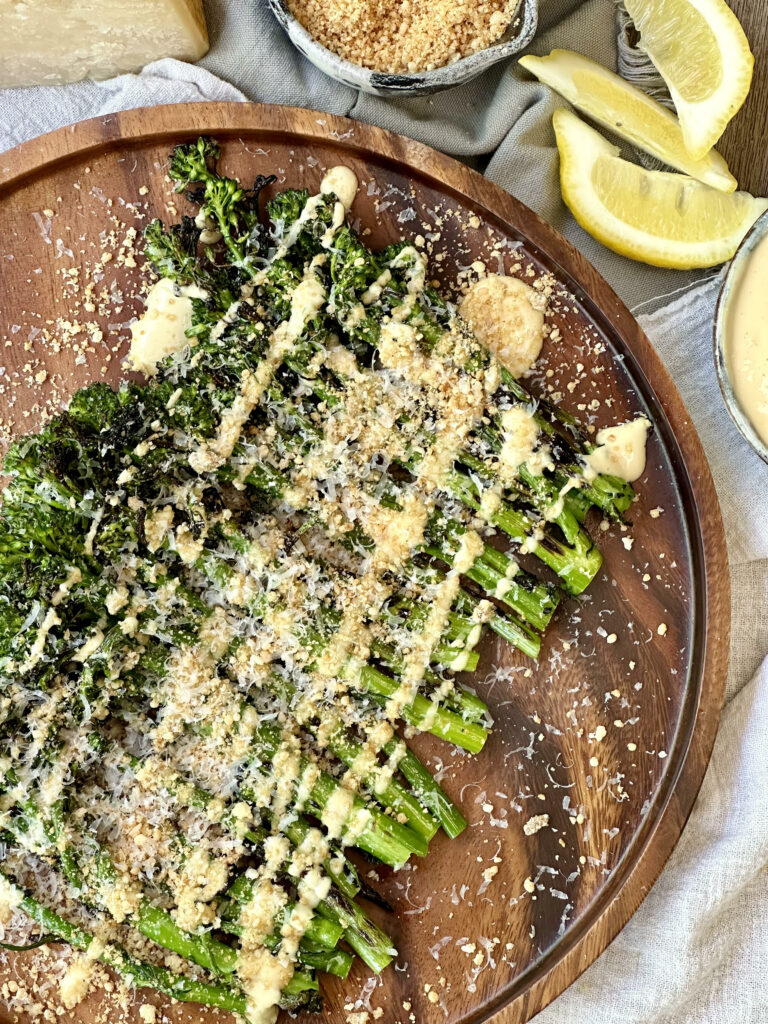 Garlic-Anchovy Breadcrumbs. I used these for the Grilled Broccolini Caesar instead of traditional croutons because I love the way the tiny breadcrumb bits catch on the florets. Also, freshly toasting them and flavoring them with fresh garlic and anchovy makes this dish. Serve them warm if you can, you'll be happy. Trust me.
Parmesan cheese. Buy a block instead of the pre-grated/shredded/shaved. It'll be better quality. The better quality the ingredients you use, the better your recipe will taste. I also use my microplane to grate it. I love the teeny tiny light ribbons it creates.
Ingredient Notes:
Broccolini – If you want to sub regular broccoli, you can!
Italian Breadcrumbs – Not panko and not pre-seasoned. Get the plain ones. These are my favorite gluten-free ones.
Anchovy – It's not too much anchovy that it overpowers the dish. It adds a really nice umami to the recipe.
Grilled Broccolini Caesar
Equipment
1 Large Pot

1 Large Bowl

Grill or Grill Pan

1 Medium Pan
Ingredients
For the Broccolini:
2

bunches broccolini

1 inch trimmed off the bottom of the stems

2

tablespoons

olive oil

Freshly ground black pepper

Caesar Dressing

to taste

Garlic-Anchovy Breadcrumbs

to taste

A block of parmesan cheese

as needed

Lemon Wedges

for serving
For the Garlic-Anchovy Breadcrumbs:
Instructions
For the Broccolini:
Bring a large pot of salted water to a boil. Add broccolini and cook for 2 minutes.

Meanwhile, prepare a large bowl of ice water. Drain broccolini and submerge into the ice water. Let sit for at least 5 minutes.

Drain broccolini. (TIP: At this point, the broccoli can be stored in an airtight container in the refrigerator for up to 2 days).

When ready to grill, preheat your grill over high heat or grill pan over medium-high heat. Toss broccolini with olive oil, Kosher salt, and freshly ground black pepper. Grill until nicely charred on both sides, flipping as needed, 4-6 minutes.

Serve broccolini on a platter drizzled with as much of the Caesar Dressing and sprinkled with as much of the garlic-anchovy breadcrumbs as you'd like. Using a microplane, grate as much of the Parmesan cheese as you'd like on top of the broccolini and serve with lemon wedges on the side, if desired.
For the Garlic-Anchovy Breadcrumbs:
In a medium-sized pan, heat olive oil over medium heat. Add anchovy, garlic, and breadcrumbs and cook, stirring occasionally, until toasted and golden, about 2-4 minutes. Transfer to a bowl and season with Kosher salt and freshly ground black pepper, to taste.
Notes
Once you've blanched the broccolini, they can be stored in the refrigerator for up to 2 days. This is a great way to prep in advance, so all you'll have to do is pop 'em on the grill to heat and char. Once plated and dressed, it's best to eat right away! The breadcrumbs won't stay crispy in the refrigerator. 
The garlic-anchovy breadcrumbs can be stored in an airtight container or plastic bag in the freezer for up to 2 months. Defrost and rewarm in a pan. I like to make a big batch of these and use as needed.