A semi-healthy dessert? WHAT! You need to try these Strawberry Cheesecake Parfaits. Plus – they are so incredibly easy!
Did I mention easy?! Maybe you wonder how these Strawberry Cheesecake Parfaits can be a little healthy. It's because I'm not using white sugar. Instead, this recipe calls for monk fruit sweetener.
I've been doing the Keto Diet recently in order to shed a few pounds before my wedding. So no sugar (sigh). One day I woke up craving something sweet. I did a little research on what keto-friendly sugar substitutes there are and found monk fruit sweetener. Luckily my local grocery store had granulated and powdered – I bought both!
Cheesecake is one of my absolute favorite desserts and strawberries are pretty keto-friendly (5-6 net carbs per serving). Done deal. I got to work on developing the perfect recipe for you all.
Now, I have a confession. I may have lied a bit about the no-bake part (forgive me?). While the cheesecake is no-bake, you DO need to bake the almond flour crumble topping.
This strawberry cheesecake parfait is suuuper creamy. It pairs perfectly with the bright strawberry mixture and the crumble that adds a great crunchy texture. Your guests will love you for these!
Ingredient Notes:
Full Fat Greek Yogurt

– The Keto Diet relies on eating fats to stay in ketosis and for the diet to work, so I chose to use full-fat Greek yogurt here. However, feel free to use low-fat if you prefer!
Vanilla and Almond Extracts – Nielsen-Massey is my jam! They have the best extracts – such high quality! I like to mix vanilla and almond extracts here for more complex flavor. However you can choose to only use vanilla if you can't find almond extract or if you have an almond allergy.
Powdered Monk Fruit Sweetener – It's really important to use powdered sweetener in this recipe since the cheesecake isn't being baked. If you use granulated sugar or monk fruit sweetener, the end result will not be smooth. If you don't want to use monk fruit sweetener, use regular powdered sugar. The Lakanto brand recommends using it as a cup-for-cup substitute for regular powdered sugar.
Almond Flour – I use blanched almond flour here so that the crumble is a consistent color, but you can definitely use unblanched if you prefer.
Granulated Monk Fruit Sweetener – The strawberries and crumble don't need powdered monk fruit sweetener so I use granulated. It's preferred in a crumble and won't come out as crunchy if you use powdered sugar.
Strawberries – If you don't want to use strawberries would work very well!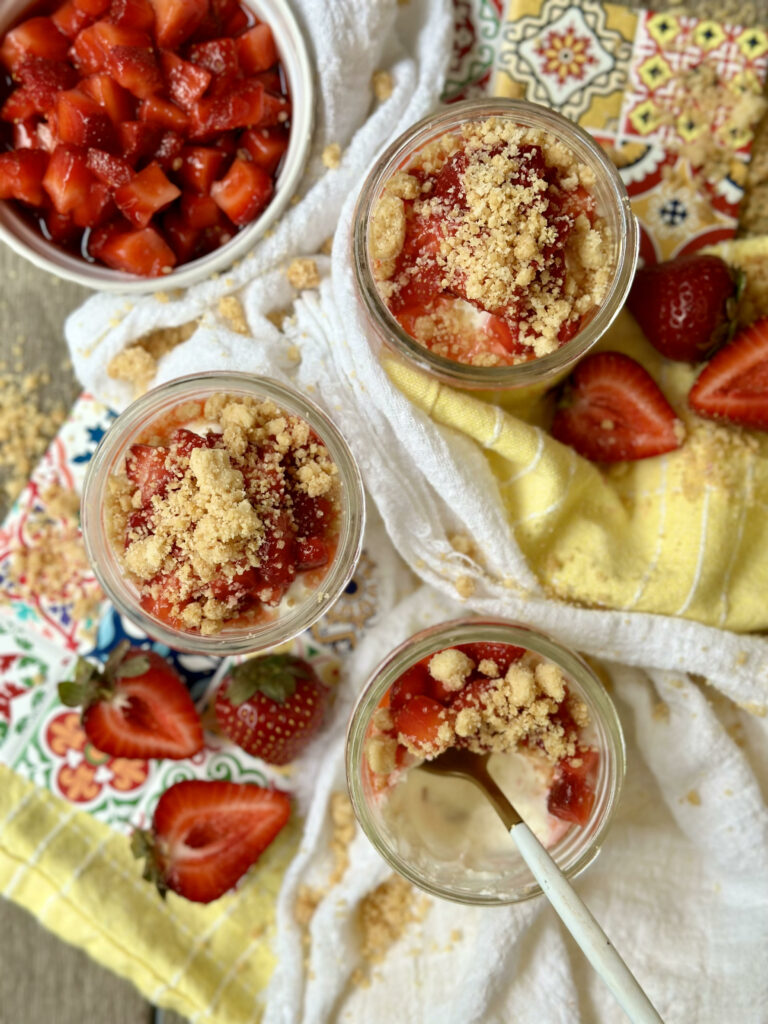 No Bake Strawberry Cheesecake Parfaits
Equipment
Stand Mixer with the Whisk Attachment

3 Medium Mixing Bowls

Rubber Spatula

Jars / Parfait Glasses

Parchment Paper

Sheet Pan
Ingredients
For the Almond Flour Crumble:
For the Macerated Strawberries:
15

strawberries

trimmed and diced small

1

tablespoon

lemon juice

3

tablespoons

monk fruit sweetener

granulated
Instructions
For the Parfaits:
In the bowl of the stand mixer, whisk the heavy cream on medium speed until soft peaks form. Increase the speed to medium-high and whisk until it reaches stiff peaks. Transfer to a mixing bowl.

In the bowl used for the whipped cream (no need to clean it out), add the cream cheese, yogurt, monk fruit sweetener and salt. Whisk until light and fluffy, then add the vanilla extract, almond extract, and lemon juice. Whisk just until combined.

Take ¼ of the whipped cream and mix it into the cream cheese mixture. Then, in three separate batches, gently fold the whipped cream mixture into the cream cheese mixture using a rubber spatula. Divide between glasses or jars and let set in the refrigerator for at least one hour.

When ready to serve, top with the macerated strawberries and almond flour crumble.
For the Almond Flour Crumble:
Preheat your oven to 350°F. Combine the butter, almond flour, and sweetener in a large mixing bowl. Using your hands, mush the ingredients together until they resemble a crumbly texture. Spread onto a parchment-lined sheet pan and bake for 20 minutes, stirring once in between. Let cool to room temperature before using.
For the Macerated Strawberries:
Place all ingredients into a medium mixing bowl and stir to combine. Let sit for at least 10 minutes before using.
Notes
***Components for the parfaits are best stored separately and put together when ready to serve.
Cheesecake Base Storage: Store in the glass jars or glasses that you're using for the parfaits, covered tightly with plastic wrap, in the refrigerator for up to 1 week. Alternatively, store in an airtight container for up to 1 week.
Macerated Strawberries: Store in an airtight container in the refrigerator for up to 1 week.
Almond Flour Crumble: Store in an airtight container or Ziplock bag in the pantry for up to 1 month or in the freezer for up to 6 months.